Gyvename drabužių pertekliaus laikotarpyje – įvairūs tyrimai rodo kiek skirtingus skaičius, bet vidutiniškai anksčiau vienas drabužis buvo vilkimas 40 kartų, o dabar – tik 7 kartus. Sunku atsispirti ir į spintą nepriimti naujų drabužių. Dažniausiai drabužius vis perkame, o senų nenaudojame gerai nepažindami jau turimo spintos turinio. O kaip pažinti? Kiek dažnai spintą peržiūrėti?
Aš spintos turinį peržiūriu kiekvienais metais keičiantis sezonui – arba tiesiog perdėlioju drabužius paslėpdama neaktualius, arba perrenku rimčiau ir nenaudojamus parduodu ar padovanoju. Šiemet atsitiktinė žinutė apie visuotinį Lietuvos gyventojų surašymą pakeitė mano planus ir spintą peržiūrėjau iš esmės. Lietuvos gyventojų surašymo metu renkama išsami informacija apie šalies gyventojus, namų ūkius: gyventojų skaičių pagal amžių, lytį, išsilavinimą, profesiją, užimtumą, pragyvenimo šaltinius ir kt.. Peržiūrėjusi savo spintą atitinkamai išsivedžiau savo spintos statistiką ir išsiaiškinau, kiek ir kokių drabužių spintoje gyvena – kokio jie "amžiaus", "profesijos" ir t.t.. Kam man to reikėjo? Ar šis eksperimentas pasiteisino? Kviečiu skaityti toliau!
5 žingsniai pažinti spintos gyventojus
1. Visą spintos gyventojų surašymo procesą pradėjau remdamasi Marie Condo patarimu, kad pirmiausia visus tos pačios rūšies daiktus, šiuo atveju – drabužius, reikia pasidėti į vieną vietą, kad matytųsi pilnas vaizdas, kad būtų aiškus turimas kiekis. Visus drabužius iš komodos, spintos dėžių ir pakabų sumečiau ant žemės. Nekoks vaizdas – norėjosi kuo greičiau susitvarkyti!
2. Drabužių krūvą surūšiavau pagal kategorijas į mažesnes krūveles – sijonai, kelnės, suknelės ir t.t.
Šiltojo sezono suknelės. Taip jau sutapo, kad dauguma jų yra raudonos/bordo spalvos 🙂
3. Turimas kategorijas dar pasmulkinau, pavyzdžiui, marškinėlius surūšiavau pagal rankovių ilgį (T formos ar berankoviai), o sukneles – pagal metų laiką (plonos berankovės – vasarai, ilgomis rankovėmis ar pašiltintos – rudeniui bei žiemai), taip pat atskirai išskyriau puošnesnes sukneles, kurias dažniausiai vilkiu tik švenčių metu.

4. Visas rūbų kategorijas nufotografavau, sugrupavau ir padariau koliažą.


5. Sukūrus koliažą išryškėjo bendras vaizdas, kiek ir kokių drabužių turiu, tačiau nusprendžiau, kad reikalingas dar vienas žingsnis – super Excelis su šių spintos gyventojų informacija. Žiūrėdama į visų drabužių nuotraukas galvojau, ką noriu apie juos žinoti ir išskyriau šias aktualias kategorijas:
• drabužį pirkau/gavau?
• pirkau naują/ devėtą?
• drabužio "amžius" – kiek laiko jį turiu?
• drabužio "profesija", t. y. kokiomis aplinkybėmis jį vilkiu – ar tai ofisinis, išeiginis, laisvalaikio ar universalus drabužis.
• drabužis "įdarbintas", t. y. ar pastaruoju metu buvo dėvimas?
Pradžioje abejojau, ar galėsiu visus šiuos klausimus sau atsakyti, bet pradėjus pildyti lentelę pasirodė, kad tai gana paprasta. Susiorientuoti labai padėjo įvairūs gyvenimo įvykiai, pavyzdžiui, stengiausi atsiminti, ar drabužį vilkėjau dar mokykloje ar jau bakalauro/magistro studijų metu. Taip pat drabužius siejau su darbovietėmis bei įvairiais renginiais – seminarais, konferencijomis, šventėmis. Man lengva įsiminti vaizdus, tad jei su tuo drabužiu turiu bent vieną nuotrauką, buvo žymiai lengviau surašyti rūpimas drabužio charakteristikas. 
Ką naujo sužinojau apie savo spintą?
Suregistravusi visus drabužius bijojau pamatyti skaičių, nes jau pildydama mačiau, kad jų yra kelios dešimtys. Kiek suskaičiavau iš viso? 131-ą vienetą drabužių. Pradžioje nustebau ir šiek tiek susinepatoginau, bet paanalizavus viską detaliau nuotaika pragiedrėjo.
Suvedusi statistiką pirmiausia nekantravau sužinoti, kiek daiktų esu įsigijusi naujų, o kiek pirkusi/gavusi devėtų. Spintos surašymas atskleidė man mielą faktą, kad mano drabužių spinta yra beveik 50:50.

Taip pat buvo smagu sužinoti, kad spintoje yra naujai pirktų drabužių, su kuriais draugauju 10 ar net daugiau metų: 
Peržiūrėjusi savo pirktų-devėtų draužių kategoriją pastebėjau, kad juos įsigijau prieš maždaug 6 metus. Tai buvo įdomus priminimas man pačiai, susijęs su tuo, kad devėtų drabužių parduotuvėse pradėjau lankytis maždaug prieš 6 metus. Tai susiję ir su tuo, kad prieš 7-erius metus pradėjau savo ofisinę karjerą. Pradžioje nešiojau jau turimus drabužius, tačiau po to pripratus ir atradus sau patogų ir mielą stilių atsirado poreikis atsinaujinti, taigi taip jau atsitiko, kad turiu daug suknelių – patogiausią rūbą, kurio nereikia prie nieko derinti.

Pripažinsiu, ne visus drabužius, kuriuos turiu spintoje 10 metų, visus tuos metus ir nešioju. Pavyzdžiui, šį "zebriuko" paltą pirkau turguje dar prieš bakalauro studijas, nes buvo "labai gera kaina", tačiau jis man "neprigijo" ir keletą metų gulėjo tėvų namuose beveik nenešiotas. Vis tik džiaugiuosi, kad kažkada grįžusi savaitgaliui jį atradau ir dabar sėkmingai nešioju jau bene 5-6 metus. Kita vertus, kitą dar 11 klasėje pirktą paltą nešioju iki šiol, t. y. jau 11 metų, apie jį jau pasakojau ankstesniame savo tekste.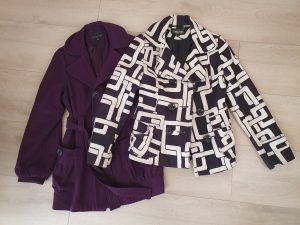 Dar keli spintoje "budintys" drabužiai – klasikinis sijonas ir klasikinės kelnės, jų abiejų nebuvau užsidėjusi gal 3 metus. Beje, klasikinis sijonas dar mano mamos jaunystės laikų, skaičiuoja jau 20+ metų, nes klasika nesensta nei spalva, nei forma. Kelnes įsigijau, nes aplinkiniai įtikino, kad "tokį dalyką būtina turėti savo spintoje", bet kažkaip vis atsiranda mielesnių drabužių, kuriuos renkuosi, pavyzdžiui, suknelės.

37 suknelės – daug ar mažai? Pažįstu moterų, kurių spintose suknelių vos keletas, bet maniškės gražuolės sudaro 28 % mano spintos turinio, jų "amžiaus vidurkis" 4 metai. Džiugu, kad 18 vnt. arba beveik 50 proc. visų suknelių esu pirkusi padevėtas arba gavau dovanų. Spintoje dominuoja šiltajam metų sezonui skirtos suknelės – jų turiu 23 vnt. arba 62 proc. visų suknelių. Gal ir natūralu – žiemos orai suknelėms ne visada palankūs.

Nors devėtus drabužius pradėjau pirkti prieš maždaug 7-erius metus, anksčiau jie atkeliaudavo kitais būdais – per giminaites, drauges, kaimynes. Taip pat pasiskolindavau ar perimdavau mamos, sesės drabužius. Pavyzdžiui šiuos "Let's be green together" marškinėlius sesė įsigijo dar mokyklos laikais, prieš maždaug 10 metų. Smagu, kad ją atradau ir jau porą metų nešioju. Simboliška, kad būtent ją pasirinkau devėti  2020 m. "Žygio už švarią Lietuvą" metu.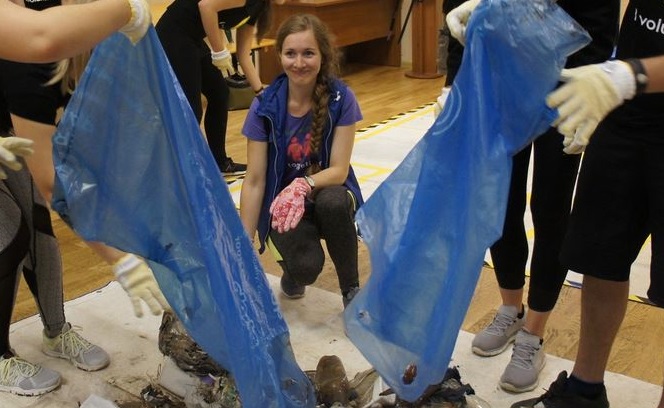 Kad ši spintos istorija neatrodytų per daug pozityvi noriu akcentuoti, kad tekste pristačiau situaciją tokią, kokia yra šią akimirką. Spintoje apgyvendinti tinkamus drabužius yra sudėtingas procesas ir manau, kad vis dar ieškau geriausio balanso, mokausi iš savo ankstesnių patyrimų. Kol išsigryninau man tinkančius ir patinkančius, esu pirkusi pigesnius drabužius, kurie susidevėjo greičiau nei planavau. Esu iš pažįstamų priėmusi neįprastus sau drabužius, kad paįvairinčiau garderobą ir išbandyčiau ką nors neįprasto, bet metus ar dvejus palaikiusi juos spintoje galiausiai perleidau kitoms. Yra drabužių, kuriuos vis dar laikau, nors ir retai užsidedu, o kartais pamatuoju tik tam, kad įrodyčiau sau, jog jų man vis dar reikia. Kai kuriuos mylimus drabužius jau taip sunešiojau, kad jie tinkami dėvėti tik po namus, bet vis dar atrandu argumentų, kodėl noriu juos užsidėti. Kai kuriuos rūbus atidedu pailsėti, tam, kad po metų ištraukusi džiaugčiausi "naujiena". Spinta yra pilna gyvybės ir kiekvienas jos gyventojas nori būti pastebėtas. Bet būna visaip… 🙂
Kodėl verta "surašyti" savo spintą?
Nepažindami savo spintos nežinome, kad spintoje guli tai, kas mums jau netinka ar nepatinka, tad prieš įsigijant naujus drabužius naudingiausia būtų peržiūrėti savo spintą iš esmės. Nors šiam darbui reikia prisiruošti, tačiau tai labai vertinga patirtis giliau pažinti savo vartojimo įpročius. Šio eksperimento metu išsigryninau, kad gana dažnai "gelbėju" devėtus drabužius perimdama iš kitų ir save apkraunu, nes neprigijusiems daiktams reikia ieškoti naujų namų. Vis tik pozityvus aspektas, kad išanalizavusi savo spintą galiu ne tik žodžiais, bet ir skaičiais pagrįsti, kad gyvenu praktiškai, nes tris ketvirtadalius mano spintos sudaro drabužiai, kuriuos pirkau ar gavau seniau nei prieš 4-erius metus, o beveik pusė mano spintos turinio – devėti drabužiai, prikelti naujam gyvenimui.
Kviečiu ir tave žengti 5 žingsnius ir geriau pažinti savo spintos gyventojus – laukia daug atradimų!
___
Žalios bendruomenės tinklaraštis atviras visiems, tad jeigu ir Tu nori pasidalinti žaliu turiniu – parašyk mums laiškelį ir padėk sukurti tvarios informacijos lobyną!