2019 m. daug kalbėjome apie vienkartinių šiaudelių atsisakymą, EK priimtą sprendimą uždrausti vienkartinį plastiką (indus, šiaudelius, ausų krapštukus ir kt.). 2019 m. taip pat džiaugėmės kai kurių prekybos centrų pirmaisiais žingsniais atsisakyti vienkartinių maišelių, pirkinių krepšius keisti popieriniais ir pan. CupCup 2019 m. įvairių renginių bei festivalių metu įrodė, kad didelio masto susibūrimai įmanomi be plastikinių stiklinių, o McDonald's bandė vartotojus pripratinti gerti kolą be šiaudelių bei dangtelių. Tuo tarpu pradedant 2020-uosius metus skatinu jus pagalvoti apie kitus (ne)vienkartinius daiktus, kurių (ne)naudojimas priklauso ne nuo EK, maitinimo ar paslaugų teikimo įmonių, o nuo mūsų pačių kasdienio nusiteikimo bei įpročių.
Bilietus panaudojame tik kartą
Neseniai buvau viename renginyje, kurio salė talpino apie 2000 žmonių. Atėjome anksčiau, tad stebėjau įeinančius žmones – kaip apsirengę, kur sėdi, kokios nuotaikos bei ką nešasi rankose. Pastarasis klausimas man buvo ypač įdomus – stebėjau, ar žiūrovai į salę įėjo su popieriniu ar elektroniniu bilietu telefone. Tuo metu pagalvojau, kad ši maža smulkmena – įprotis nespausdinti elektroninio bilieto – gali labai daug.
Savo prasme bilietas yra vienkartinis daiktas – panaudoji įeidamas į spektaklio, koncerto, kino, parodos salę ar įlipdamas į autobusą, traukinį, lėktuvą. Vienąkart panaudoji ir viskas – jo nebereikia. Jei visi išsiugdytume įprotį visų internetu perkamų bilietų nespausdinti, sutaupytume daug popieriaus. Kad būtų lengviau įsivaizduoti popieriaus sunaudojimo mastus pateiksiu kelis pavyzdžius.
Mano jau minėtame renginyje buvo apie 2000 žmonių, tad jei visi būtų spausdinę popierinius bilietus, vien šiam renginiui būtų sunaudoti keturi A4 formato lapų blokai. Dar didesni žmonių mastai LITEXPO parodų salėse: pavyzdžiui, 2018 m. bei 2019 m. LITEXPO parodą "Studijos" kasmet aplankė daugiau nei 28 000 žmonių. Jei visi lankytojai būtų spausdinę bilietus vien šiam poros dienų renginiui kiekvienąkart būtų sunaudojami 56 blokai popieriaus. Arba atvirkščiai – 56 blokai popieriaus būtų sutaupyti – tai priklauso nuo mūsų požiūrio bei mūsų įpročių. Jei 56 blokus popieriaus galime sutaupyti vieno renginio metu, kiek visi sutaupytume medžių ir kitų renginių metu, kurių kasmet vyksta tūkstančiais? 😉
Degalų pylimas – pasikartojantis ritualas
Vasarą keliaujant užsukome į vieną iš Lietuvos rajoninių degalinių ir buvau maloniai nustebinta – prie plastikinių pirštinių kaip tvaresnė alternatyva buvo pakabinta daugkartinė pirštinė. Po to pabandžiau įsivaizduoti, kaip ši maža smulkmena – įprotis degalinėje naudoti daugkartines pirštines – gali prisidėti prie aplinkos tausojimo. Juk vienkartinė plastikinė pirštinė savo esme yra labai panaši į vienkartinį maišelį – dažniausiai panaudojama tik kartą, nėra perdirbama ir yra itin lėtai, todėl džiugu, kad kai kurios degalinės siūlo alternatyvas.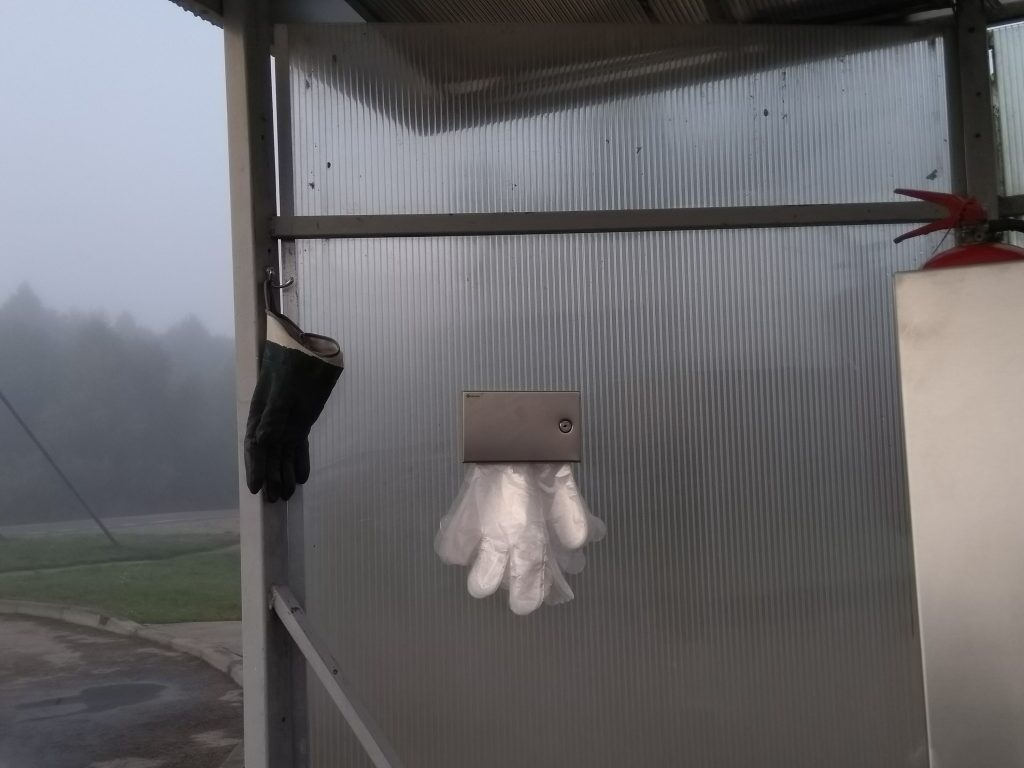 Tikslios statistikos, kiek lankytojų aplanko degalines kiekvieną dieną, neradau, tačiau nesunku įsivaizduoti, kad mastai dideli – bent keliasdešimt tūkstančių. Yra paskaičiuota, kad statistinio Lietuvio šeimoje yra bent keli automobiliai, taip pat, kad kiekvienais metais B kategorijos vairavimo egzaminą laiko daugiau nei 30 000 žmonių. Net tie, kurie neturi savo asmeninio automobilio ir kartais išsinuomuoja City Bee, taip pat automobilius pildo degalais. Taigi galima apibendrinti, kad kiekvienas vairuotojas bent porą kartų per mėnesį užsuka į degalinę ir, greičiausiai, naudojasi nemokamai prieinamomis vienkartinėmis plastikinėmis pirštinėmis. Kad šis pasikartojantis vairuotojų ritualas būtų tvaresnis skatinu naudoti daugkartines pirštines – tas, kurias siūlo degalinė, arba asmenines, kurios visuomet jus lydėtų bagažinėje (juk pirštines naudojame ir atlikdami kitus smulkius automobilio priežiūros darbus).
Šioje apžvalgoje pateikiau tik kelis paprastus pavyzdžius apie tai, kad mūsų kasdieniai įpročiai gali lemti daug jei daiktus priimame ne kaip vienkartinius ir ieškome alternatyvų. Pasitikite 2020-uosius su naujais įpročiais: lankykitės renginiuose ir keliaukite išmaniai – bilietus turėkite telefone (jei renginio ar kelionių organizatorius nenumato kitaip), o degalų pylimą, kaip ritualą, atlikite su daugkartinio naudojimo pirštinėmis :).
Žalios bendruomenės tinklaraštis atviras visiems, tad jeigu ir Tu nori pasidalinti žaliu turiniu – parašyk mums laiškelį ir padėk sukurti tvarios informacijos lobyną!