Dabar kiek su pašaipa pasakojama, kad tik atsiradus plastikiniams maišeliams močiutės juos plaudavo, džiovindavo ir vėl naudodavo (ir taip – daug kartų). Aišku, jos tai darė ne dėl tvarumo, o labiau dėl taupumo, kadangi tuo metu trūko ne tik daiktų, bet ir kai kurių maisto produktų. Turimus daiktus žmonės labiau tausodavo, tad apie tų laikų apsipirkimo įpročius ir vyravusį praktiškumą pakalbinau močiutę Lionę. Tikslius faktus mėgstančius skaitytojus įspėju, kad šiuo pokalbiu nesiekiau istorinio tikslumo, labiau norėjosi atspindėti tuometinių įpročių dvasią, tad pokalbyje persipina skirtingi laikotarpiai, ir datų šiame tekste bus vos kelios.
Laikai be plastikinių pakuočių
"Zero waste" tipo parduotuvių Lietuvoje dar nėra daug, todėl įsivaizduoti apsipirkimą, kurio metu visiškai išvengiama plastikinio pakavimo, yra sudėtinga. Vis dėlto, plastikinių pakuočių mūsų močiučių laikais buvo minimaliai – dominavo stiklinės bei popierinės.

Pieno produktai (pienas, kefyras, pasukos, grietinė) būdavo parduodami 0,5l arba 1l talpos stiklainiuose. Žmonėms toks apsipirkimo būdas buvo įprastas. Stiklainius jie pernaudodavo buityje konservavimui arba vėl grąžindavo į rinką (tuo metu stiklo taras supirkinėdavo).

Be plastiko parduodavo ir mėsą bei jos gaminius. Mėsa buvo sveriama ir pakuojama į popieriaus lakštus – taip pardavinėdavo tiek parduotuvėse, tiek turguose. Močiutė akcentavo, kad mėsa tuo metu nebuvo šlapia kaip dabar, todėl poreikio ją papildomai apvynioti, įpakuoti nebuvo.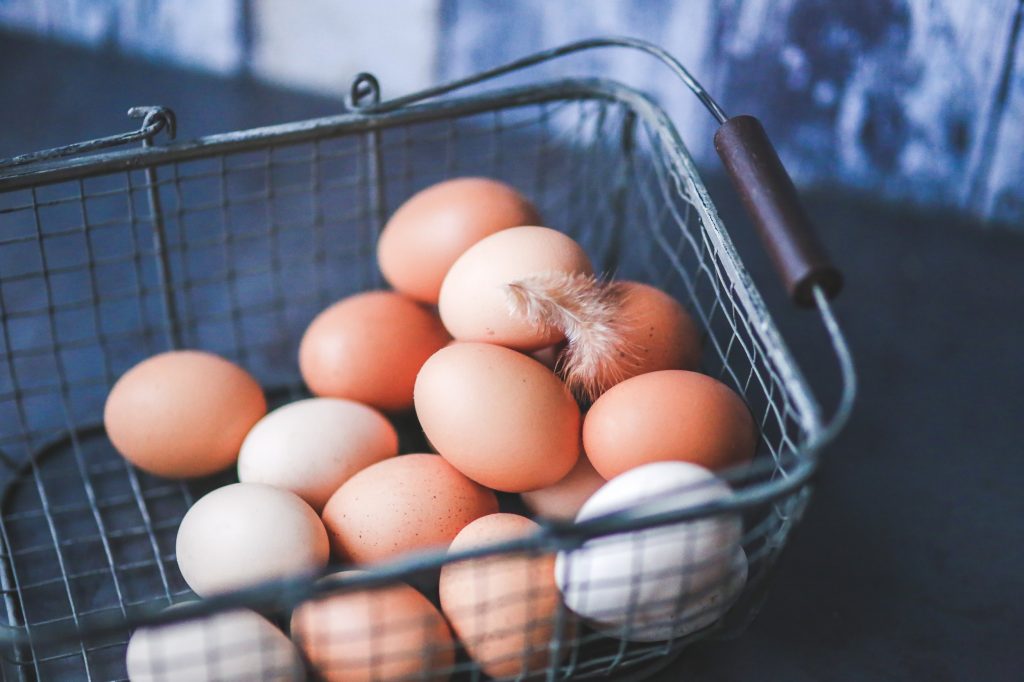 Nors kiaušiniai parduotuvėse būdavo sandėliuojami kartoninėse dėžutėse (gal po 30 vnt.), tačiau tų dėžučių pirkėjams neduodavo: "visi prašydavo reikiamo kiaušinių kiekio ir susidėdavo į savo maišelius", – pasakojo močiutė. "Turguose kiaušiniai būdavo sudėti į pintinėles, pirkėjai įsidėdavo į savo krepšį, pavyzdžiui, susukdami į popierių ar laikraštį". Klausydama močiutės galvojau, kad nupasakotu būdu pirkti kiaušinių jau niekas nenorėtume – dabar naudojamos kartoninės dėžutės atrodo kur kas patikimesnė apsipirkimo forma.
Esame įpratę pirkti raikytą duoną pakuotėse, tačiau anksčiau duona buvo parduodama tik kepalais. "Duona buvo nepakuojama, tad jei turėdavai maišelį – įsidėdavai į maišelį, o, jei neturėdavai, tai nešdavaisi po pažastim", – pasakodama šypsojosi močiutė. Paklausus, ar duona be pakuotės greitai nesudžiūdavo, močiutė kraipė galvą – "Ne, nedžiūdavo, o ir taip žmonės greit ją suvartodavo".
Daržoves ir vaisius parduodavo maišeliuose-sietkutėse, o smulkesnius produktus, pavyzdžiui, saldainius, sausainius, uogas – suvyniodavo į popierių.  Močiutė pademonstravo, kaip anksčiau buvo pakuojama susukant popierių ar laikraštį į tūtelę: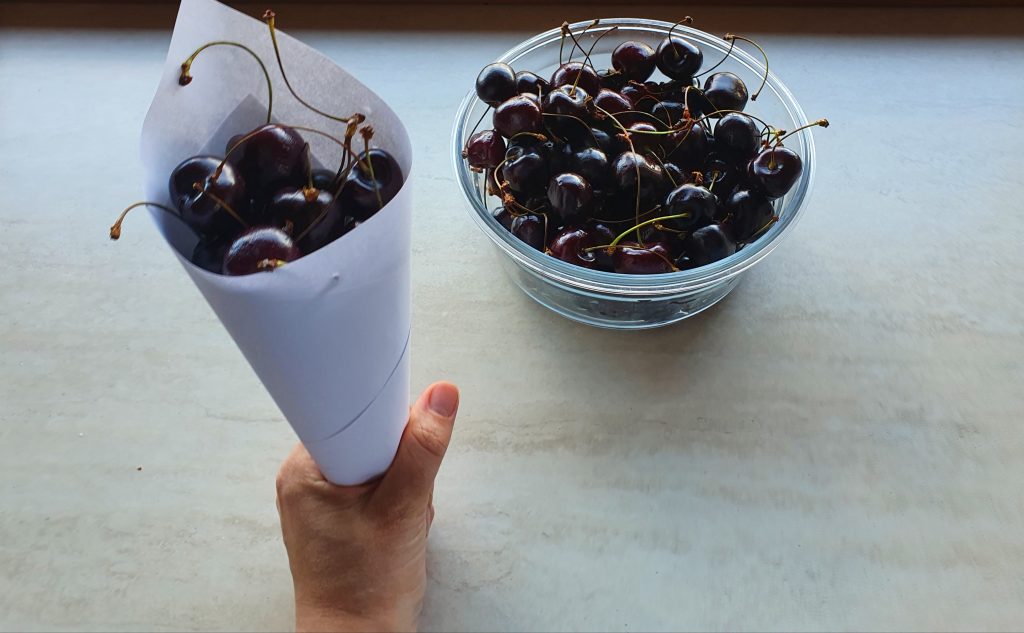 Gana ilgą laiką makaronai, kruopos, miltai buvo parduodami atskirose talpose ir būdavo tik sveriami – panašiai kaip dabar veikiančiose "zero waste" tipo parduotuvėse. Kruopas pakuoti prekybininkai pradėjo kur kas vėliau, kai jau atsirado daugiau savitarnos parduotuvių (žr. nuotraukas apačioje).
Šampūnai, kaip ir dabar, būdavo supakuoti buteliukuose, o muilai buvo parduodami be pakuočių – tiesiog sudėti vienas ant kito. Tuo metu didelio muilo pasirinkimo ir nebūdavo – ūkiškas muilas skalbimui ir paprastas prausimuisi.
Kol plastikinių maišelių nebuvo, visi naudodavo sietkutes, kurias buvo galima įsigyti parduotuvėse, turguose. Močiutė prisimena, kad sietkutės buvo labai tvirtos ir ilgai tarnaudavo. Maišelius moterys siūdavosi ir pačios, rankenas sutvirtindavo metaliniais žiedais arba medinėmis rankenomis.
Dar ji pasakoja, kad su savimi nešiotis maišelius buvo įprastas dalykas, kadangi niekas jų šiaip sau nedalino, o turimus maišelius žmonės tausojo: "Tuo metu perkant knygą ar drabužius niekas į maišelius nepakuodavo – einant apsipirkti žmonės apgalvodavo, kaip pirkinį reikės parsinešti. Batus kaip ir dabar pardavinėdavo kartoninėse dėžutėse, bet maišelių tos dėžutės įsidėjimui taip pat niekas neduodavo".
Kadangi daugelio daiktų trūko, turimus daiktus žmonės labai tausodavo, remontuodavo. Moterys daugiau pačios siūdavo ir megzdavo, o visus turimus drabužius lopydavo, kas kaip mokėdavo, kaip  juokavo močiutė, lopas ant lopo, trečias viršuj. Moterys rūbų nebetvarkydavo, kai buvo visai nebeįmanoma jų sulopyti ar iš kelių sumeistrausti kažkokio vieno. Klausant močiutės pasakojimo šiek tiek juokinga, kad šiuo metu populiaru rengtis suplyšusiais džinsais, tačiau "nelygis" vaikščioti su sulopytais drabužiais ar nedailiai susiūtom kojinėm.
Mūsų močiutės virtuvės priežiūrai nenaudodavo nei kempinėlių, nei popierinių rankšluosčių: "vietoj kempinėlių naudodavome senų drabužių skuduriukus, o indams ir šiaip valymui naudodavome rankšluosčius – jie tarnaudavo ilgai, išvirindavome juos aukštoje temperatūroje".
Kalbant apie apsipirkimo įpročius pokalbis natūraliai pakrypo ir į temą apie renginius. Šiuo metu šventės neįsivaizduojamos be šašlykų ir pilstomų gėrimų, kuriuos, su retomis išimtimis, vis dar gauname plastiko induose. Kaip be plastiko išsiversdavo anksčiau?
"Kaip dabar, taip ir tada švenčių metu būdavo gėrimų – vandens, giros, alaus, taip pat maisto – dažniausiai tai būdavo šašlykai ar keptos dešrelės. Vanduo bei gira būdavo tiekiami iš automato, visi naudodavome tą pačią stiklinę – būdavo specialus fontanėlis stiklinei išplauti. Klausydama močiutės raukausi: "o tai ar švariai nuplaudavo tą stiklinę?" Močiutė linksi, – "taip, tikrai švariai. Fontanėlio srovė būdavo stipri, tai procesas sudarydavo švaros įspūdį."


"Tuo metu vienkartinių indų kaip dabar nebūdavo, tad keptas dešreles ar šašlykus valgydavome tokiose nedidelėse kartoninėse dėželėse, kaip servetėlės dydžio, su normaliais įrankiais – pavalgę juos grąžindavome – būdavo plovėjos, kurios įrankius nuplaudavo", – prisiminimais dalinosi ji. Klausydama pašnekovės mintyse pagalvojau, kad esu dėkinga aplinkybėms, kad dabar viena stikline dalintis su niekuo nereikia, o vis daugiau švenčių, festivalių ir žygių ieško tvaresnių alternatyvų plastikui – naudoja daugkartinius "Cup cup" puodelius ar skatina eiti į žygį, atvykti į renginį su savo indais maistui bei gėrimams.
Taigi, ko gali pasimokyti iš savo močiutės?
Mūsų laikai daugeliu aspektų yra pranašesni už "anuos", kai gyveno mūsų močiutės. Gyvename šiltai, ramiai, daug darbų už mus padaro buitiniai prietaisai – nereikia rūbų skalbti rankomis, kai kuriems nereikia net plauti indų ar siurbti namų. Taip pat daugelis išgyvename ne daiktų trūkumą, o jų perteklių. Dėl šios priežasties kai kurie iš mūsų net ieško žinovių, tokių kaip Marie Condo, patarimų, kad išsivalytų nuo turimų daiktų ir vėl pajaustų džiaugsmą savo namuose.
Sau išsigryninau kelis aspektus, kurių galiu išmokti iš močiutės:
1.    Įmanoma išsiversti ir be plastikinių maišelių: kiekvieno apsipirkimo metu svarbu turėti savo daugkartinius maišelius. Maišelis – pirkėjo atsakomybė.
2.    Apsipirkti be plastikinių pakuočių (bent jau kai kur) yra įmanoma. Reikia eksperimentuoti ir ugdytis įprotį apsipirkti tvariau.
3.    Užuot įsigijus kažką naujo svarbu naudoti tai, ką jau turiu, kiek įmanoma ilgiau.
Kaip manote, ko dar galite pasimokyti iš savo močiutės? Jei kada pristigs motyvacijos puoselėti tvarius įpročius ar norėsis įkvėpimo, linkiu pakalbinti savo artimuosius – močiutes ir senelius bei tėvelius apie "anuos" laikus :).
Senųjų nuotraukų šaltinis: Archyvai.lt, Virtuali paroda "Sovietinės Lietuvos ekonomika: nuo industrializacijos iki nuolatinio stygiaus" (nuoroda).
___
Žalios bendruomenės tinklaraštis atviras visiems, tad jeigu ir Tu nori pasidalinti žaliu turiniu – parašyk mums laiškelį ir padėk sukurti tvarios informacijos lobyną!