DĖKUI – tai ne tik daiktų padėka, kad ieškote jiems naujų namų. Po DĖK'ui pavadinimu taip pat slepiasi ir labai šaunus projektas. Vilniaus apskrityje šiuo metu veikia 16 DĖK'ui stotelių. Jose galima palikti nebenaudojamus, nusibodusius daiktus ar baldus, kuriuos vėliau nemokamai pasiima kiti žmonės. Į šias stoteles žmonės atveža įvairiausius daiktus: vidaus ir lauko baldus, buitinę techniką, remontui reikalingas medžiagas, buities reikmenis, vaikams skirtas priemones (vežimėlius, autokėdutes, voneles ir kt.), priemones sportui ir laisvalaikiui ir kt. Stotelėse daiktai neužsibūna – kiekvieną ketvirtadienį daiktus gali atsiimti žmonės, kuriems tie daiktai aktualūs, tad galima sakyti, kad šios stotelės – laikini daiktų namai.
DĖK'ui stoteles esu išbandžiusi trimis būdais: (1) į vieną jų vežiau nebenaudojamus daiktus, (2) iš stotelės pasiėmiau man aktualų daiktą, (3) kartą savanoriavau. Šiuo tekstu noriu jums plačiau pristatyti minėtą laikiną daiktų saugojimo vietą bei paskatinti išbandyti 3+1 būdus! 😉
Kai 2019 m. birželį (tik neseniai atsiradus pirmajai stotelei), važiavome pasiimti rezervuoto daikto, jaučiausi šiek tiek kalta. Kilo dvejonės, ar šis socialinis projektas nėra skirtas nepasiturinčioms šeimoms – galbūt rašomąjį stalą atimame iš kažko, kas turi mažesnes pajamas? Vis tik, susipažinusi su pačia stotele gyvai ir matydama Facebook įrašus, kokiais kiekiais daiktai atiduodami, suprantu, kad daiktų, kurių nenaudojame, yra tiek daug, kad tikrai užteks visiems!
Apie projekto idėją jums plačiau papasakoti sutiko DĖK'ui stotelių savanorių koordinatorė Marija Šilinskytė.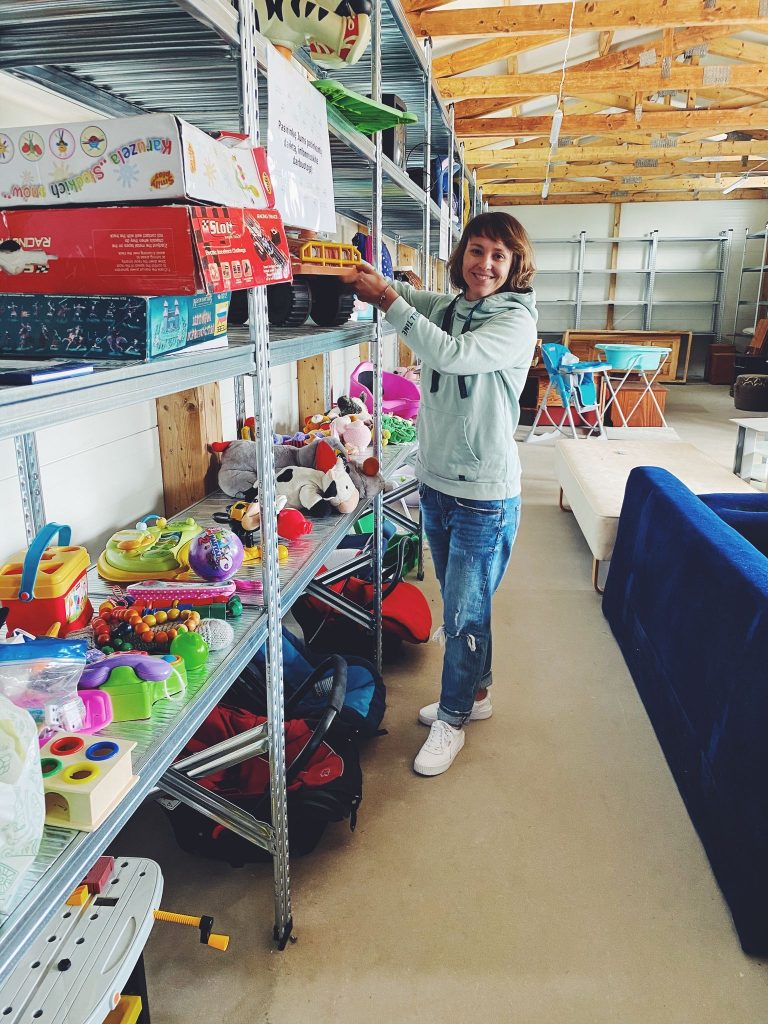 Pirma mintis paskaičius apie DĖK'ui stoteles gali būti, kad jos labiau skirtos nepasiturintiems, t. y. kaip dar viena paramos jiems formų. Vis dėlto šūkis "Jei turi ir gali pasidalinti – atvežk! Jei reikia ir patinka – pasiimk!" parodo, kad šių stotelių užmanymas yra platesnis. Papasakok, kokie žmonės stotelėse lankosi atiduoti daiktus, paimti daiktus? Ar daugiau yra atiduodančių ar imančių?
Ateina įvairūs žmonės: šalia gyvenantys, konkretaus daikto ieškantys, dirbantys kokioje organizacijoje (pvz., N. Vilnios stotelėje dažnai lankosi neįgaliųjų centro darbuotojai), turintys kokią sodybą bei studentai. Kol kas, rodos, ateina mažiau pasiturintys, bet konkretaus daikto paieško ir įvairių pajamų žmonės (pastaba: taip atrodo tik iš šono). Kol kas daugiau atiduodančių: atiduoti galima visomis aikštelių darbo valandomis, o pasiimti – tik ketvirtadieniais.
Pati savanoriauji keliose daiktų stotelėse – ar tarp jų yra kažkoks skirtumas, pvz. kalbant apie asortimentą ar lankytojų poreikius?
Atokiau esančios stotelės Liepkalnio g. Ir Naujojoje Vilnioje yra ramesnės ir erdvesnės. Jos yra toliau nuo gyvenamųjų rajonų. Užtat Pumpėnų bei Pilaitės stotelės, kurios yra gyvenamuosiuose rajonuose, yra labai aktyvios, ir jose nuolat pilna daiktų. Į vienintelę Pilaitės stotelę galima atvežti rūbus – dėl to ten visada daug rūbų, kurių net nebėra kur išdėlioti. Išskyrus rūbus Pilaitėje, asortimentas stotelėse gana panašus.

Kokių kategorijų daiktai greičiausiai išgraibstomi ir stotelėse neužsibūna?
Šiaip yra greitai paimami įvairūs daiktai, bet tikrai neužsibūna technika ar kokybiški baldai. Jų stotelėse dažniausiai nėra daug ir pakankamai greitai paimama. Bet savanoriai skatina lankytojus apsižvalgyti ir paimti daugiau daiktų nei yra rezervavę sistemoje, todėl dažnai apžiūrimi ir paimami smulkesni daiktai: knygos, indai, aksesuarai.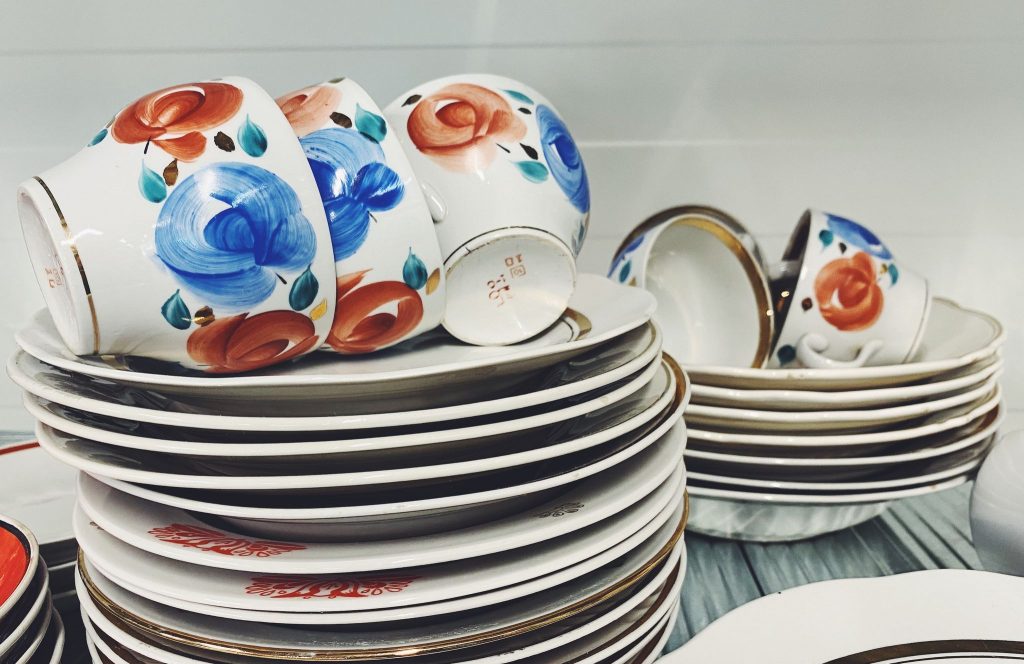 Ką darote, kai daiktas užsibūna? Savanorė Marija Pilaitėje pasakojo, kad kai kurie užsibuvę daiktai (drabužiai, minkšti žaislai) gali būti išvežami į kaimo vietovių stoteles, nes vilniečiai gal išrankesni ir ne visus daiktus nori imti. Taip pat Marija minėjo, kad svarbus ir daikto pateikimas: kartais daiktas stovi ir niekas jo neišsiveža kelias savaites, bet, pasitaiko, kad pakeitus jo vietą daiktas tampa labiau matomas ir pagaliau randa savo šeimininkus. Gal turi pavyzdžių iš savo praktikos, kaip daiktą geriau "parduoti"?
Padeda pokalbis su lankytojais ir asmeninis "pardavimas" daiktą parodant. Kadangi daiktų būna nemažai, tai lankytojai ne visada sugeba juos visus apžiūrėti. Savanoriai kartais paplepa su jais paklausdami, ko jie ieško, arba parodydami kokį naują įdomų ar kokybišką daiktą.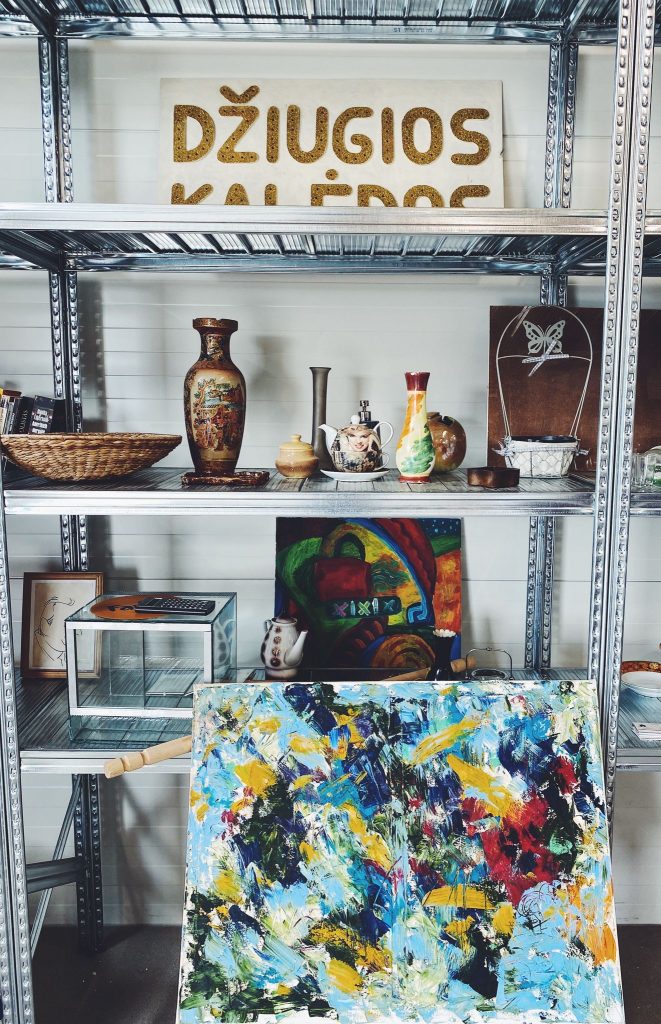 Kai buvau Pilaitės DĖKui stotelėje pati mačiau, o savanorė Marija patvirtino, kad dažnai čia ateina šeimos su vaikais – atneša savo senus žaislus ir renkasi naujus. Atrodo, kad tai puikus būdas ugdyti vaikų sąmoningumą nuo mažens. Ar tą patį pastebėjai ir stotelėse, kuriose tu savanoriauji?
Taip – to pasitaiko visose stotelėse. Vaikai patys išsirenka daiktus, ir girdžiu, kaip tėvai sako jiems, jog turės atnešti savo turimų žaislų į stotelę :).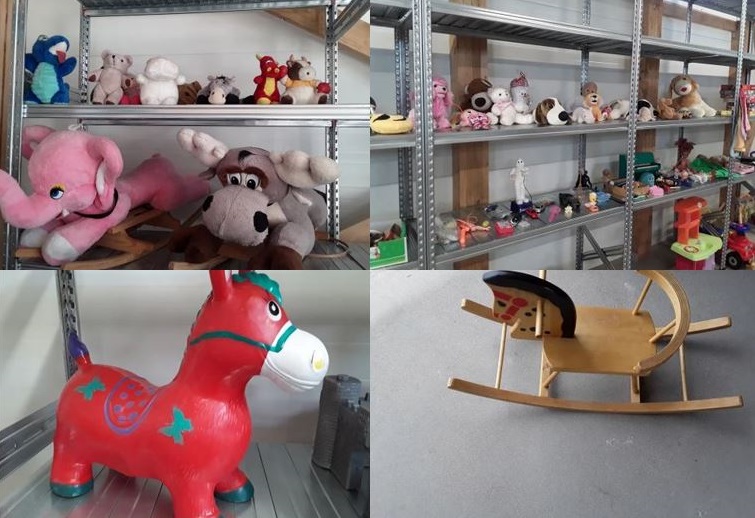 Atliekų kultūra Facebook puslapyje buvo skelbiamas atiduotų daiktų svoris – banginio dydžio. Gal žinai, kaip tai buvo apskaičiuota? Greičiausiai skaičiuojami tik didieji, t. y. rezervuoti daiktai?
Taip, yra skaičiuojami tik tie daiktai, kurie patenka į sistemą-puslapį. Ten patenka visi didesni daiktai, kurie nėra iškart paimami (t.y. tik atveža ir greitai paima). Į sistemą taip pat nekeliami indai, knygos, aksesuarai, rūbai, žaislai ir kiti smulkūs daiktai.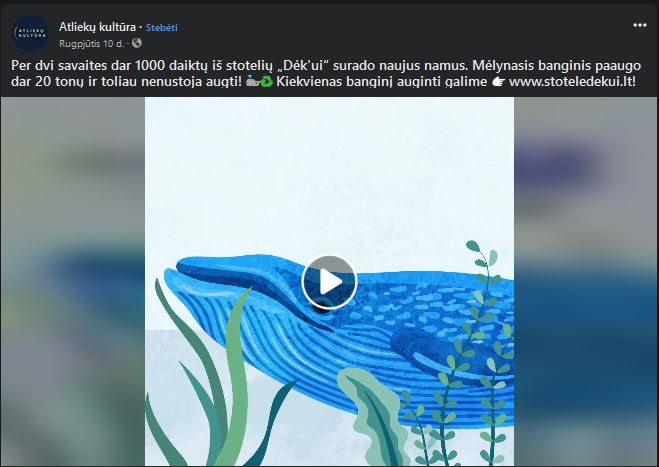 Palaikyti DĖK'ui stotelių veiklą kviečiu 4 būdais:
1.    Dovanokite nereikalingus daiktus.
Jei norite pasidalinti nereikalingais, bet tvarkingais ir tinkamais naudoti daiktais, atvežkite juos į bet kurią didelių gabaritų atliekų surinkimo aikštelę jos darbo metu. Aikštelių adresus ir darbo laiką surasite adresu: www.vaatc.lt/aiksteles/. Prieš vežant daiktus, būtinai susipažinkite su atmintine.
Dovanoti savo daiktus taip pat galite ir Vilniaus centre neseniai įsikūrusiame DĖK'ui butike. Daugiau informacijos čia.
2.    Pasiimkite aktualius daiktus.
DĖK'ui stotelės yra atviros visiems, todėl užsukti kviečiu:
Studentus ar absolventus, besikuriančius naujoje vietoje;
Šeimas, įsirenginėjančias savo svajonių namus ar sodybas;
Zero waste judėjimui pritariančius žmones, kurie tiki, kad daikto naudojimo ciklas turėtų būti kuo ilgesnis;
Menininkus, ieškančius medžiagų savo darbams;
Rankdarbius mėgstančius žmones, norinčius daiktą patobulinti ir sušiuolaikinti dekupažo ar kt. technikomis;
NVO ar kitas organizacijas, norinčias pagražinti ar įkurti darbo vietas;
…ir visus kitus nepaminėtus žmones, kuriems reikia daiktų!
DĖK'ui stotelių tikslas, kad naudoti daiktai stotelėse neužsibūtų ir rastų naujus namus, tad imkime ir naudokime – užteks visiems.
3.    Savanoriaukite.
Raskite porą valandų laiko ir kurį nors ketvirtadienį pasavanoriaukite DĖK'ui stotelėje. Iš patirties galiu pasakyti, kad bent kartą pasavanoriauti naudinga siekiant labiau suprasti daiktų pertekliaus situaciją bei prisijaukinti idėją, kad naudoti daiktai gali būti kokybiški, ir yra tinkami naudoti dar ir dar kartą.
Daugiau informacijos apie savanorystės galimybes rasite štai čia.
+ 1  Skleiskite žinutę tarp pažįstamų.
Tegul apie šią gerą idėją sužino kuo daugiau žmonių. Skatinkite savo pažįstamus vežti daiktus į stoteles ar kažką iš jų pasiimti. Kuo daugiau daiktais dalinsimės, tuo mažiau pirksime naujų!
Taip pat panašu, kad DĖK'ui stotelių konceptas plečiasi ir ateityje čia bus dar daugiau veiklų. Jau dabar iniciatyva skatina bendruomeniškumą: Lentvaryje organizuojama dirbtuvių veikla, Šalčininkų rajone – dekupažo užsiėmimai. Kas bus toliau? Sekite informaciją Facebook'e bei jų tinklapyje.
___
Žalios bendruomenės tinklaraštis atviras visiems, tad jeigu ir Tu nori pasidalinti žaliu turiniu – parašyk mums laiškelį ir padėk sukurti tvarios informacijos lobyną!