Verpimas? Būna lėtasis, būna ir greitasis. Prie jo šį mėnesį dar sugrįšiu. O šiandien siūlau prisiminti nuotykius verpėjų, nuo kurių prasidėjo moderniosios Indijos istorija. Šiandien ji tęsiasi greitosios mados tempu. Turbūt nieko keisto: prasidėjo lėtai, o tada… įsibėgėjo.
Noriu papasakoti apie ratą, kuris yra Indijos mitologijos dalis, Indijos filosofijos dalis, Indijos pilietinio pasipriešinimo simbolis bei priemonė nuriedėti į nepriklausomybę, taip pat ir opių šiuolaikinės Indijos problemų kaltininkas. Manau, jeigu paprasčiausias ratas jau pradėjo skambėti nepaprastai, dar kartą nustebkite – tai ne šiaip ratas, o verpimo ratelis.
Pasaulis sukasi ratu
Nieko keisto mitais apipintos valstybės vėliavoje matyti ratą – be pradžios ir pabaigos, tačiau su aiškiai matomais dvidešimt keturiais stipinais, dar vadinamą dharmos ratu. Dharma yra tai, kas laiko, palaiko visatos santvarką, dermę; dharma yra ir pats ratas, ir dėsnis, ir pirmapradis, visuotinis įstatymas, pagal kurį sukasi visas šis pasaulis ir kuris tą sukimąsi palaiko. Jis nėra nei teisingas, nei neteisingas – jis sukasi, nes juk negali nesisukti būdamas apvalus.
Tokį simbolį, kokį šiandien matome vėliavoje, III a. pr. Kr. išpopuliarino karalius Ašoka, susižavėjęs budistiniu mokymu ir visoje karalystėje liepęs iškalti savo ediktus – 24 budistinio kelio priesakus, lydimus rato simbolio. Dharma – nepaneigiamas įstatymas, o budistinė dharma liudija teisingą ir garbingą žemiškos santvarkos idealą.
(Ne)įdomioji istorija
1947 metais Indija išskleidė savo nacionalinę vėliavą su dharmos ratu centre – kuriant modernią Indijos valstybę toks simbolis labai tiko: juk, atsižvelgiant į visus Visatos dėsnius – Indija turi teisę egzistuoti! 24 priesakai, gimę Indijos žemėje, ir toliau čia vyraus – Indija egzistuos pačia teisingiausia, labiausiai subalansuota žemiškąja santvarka. Gražūs užmojai – sakau žvelgdama į konservatyvią, patriarchalinę visuomenę, tylinčias moteris, smogą, šiukšles, dirbtinį auksą ir iki dantų apsiginklavusią, korumpuotą šiuolaikinę Indiją.
Tačiau vienas žmogus, daugumai žinomas Mahatma Gandis, ne tik šnekėjo apie minėtus idealus, bet ir stengėsi laikytis duoto žodžio, o į Indijos vėliavą įpaišė verpimo ratelį.
Istorija liudija, jog viename iš pirminių valstybinės vėliavos variantų iš tiesų buvo pavaizduotas visas verpimo ratelis – tik vėliau supaprastintas, o gal kaip tik patobulintas, t. y. suapvalintas į dharmos ratą.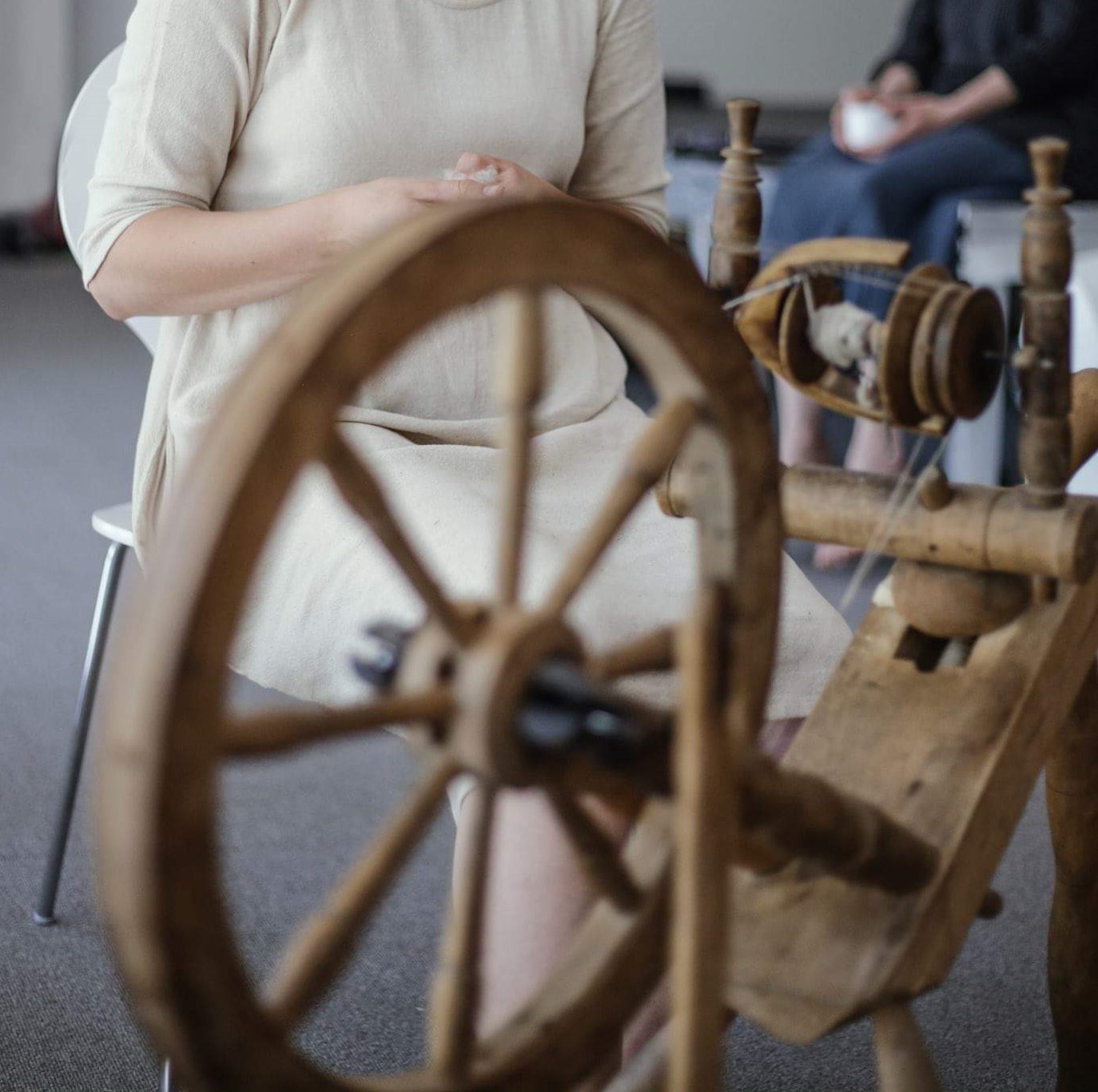 Kodėl ratelis?
Tekstilė iš tiesų suvaidino nemenką vaidmenį kuriantis moderniajai Indijai. Toks vientisas politinis-teritorinis darinys, kokį matome šiandien, iki XX a. subkontinente neegzistavo. Nuo XVII a. pradžios čia po truputį įsigalėjo ekonominė britų įtaka, užaugusi iki kolonijinės priespaudos – ne tik gudriai kontroliavusios vietinę ekonomiką, bet ir suteikusios progą į vietinę kultūrą (ar kultūras) žiūrėti iš aukšto.
Prasidėjusi tekstilės amato modernizacija ir pramoninės tekstilės Didžiojoje Britanijoje atsiradimas buvo lemiamas Indijos ekonomikai: XIX a. pabaigoje rankomis austa indų tekstilė tapo per brangi eksportuot, o britai Indiją užvertė pigiais pramoniniais audiniais, todėl vietinė ekonomika stojo. Verpėjai ir audėjai liko ne tik be darbo ir pajamų, bet… net ir vienintelis dar įperkamas rūbas – ir tas siūlomas brito! Tai iš tiesų buvo paradoksas, kirtęs per indų savigarbą ir paskatinęs "svadeši" (skr. "savas, [mūsų] pačių šalies") judėjimą – raginimą boikotuoti importines prekes bei rinktis vietinę produkciją. Keliose judėjimo stadijose britiškos tekstilės drabužiai buvo aistringai deginami laužuose…
Boikotai, prasidėję dėl ekonominių priežasčių, XX a. pradžioje po truputį peraugo į aukštesnio lygio politinę rezistenciją: kiekviename žingsnyje buvo stengiamasi apeiti britiškąją tvarką. Viena iš svarbiausių figūrų tapo Mohandas¹ Gandis – teisininkas, tarptautinėje arenoje pasižymėjęs pilietinių teisių gynėjas, iškėlęs pilietinio nepaklusnumo idėją, t. y. nefizinį (nesmurtinį!) pasipriešinimą.
Vienas iš Gandžio raginimų buvo rinktis ne pigią britišką tekstilę, o vilkėti paprastą baltos indiškos medvilnės – khādī – rūbą.
Tačiau netrukus teko susidurti su realybės paradoksu: jis pats, apsirėdęs gerokai brangesniu tradicinės medvilnės rūbu, iš tribūnos siūlo paprastam žmogui neįkandamą sprendimą. Kaip galima skatinti skurdo, krizės ir socialinės nelygybės iškamuotą žmogų raginti atsitiesti ir pačiam pasirinkti laisvę, jeigu jis paprasčiausiai neišgali rinktis vietinės prekės? Pasirinkimo nėra? Nuo šios minties gijos ir prasidėjo rankomis verpiamo siūlo gija…
Geriausias mokytojas – pavyzdys
Už antikolonijinę veiklą beveik metams patekęs į kalėjimą, tautos vedlys laiko tuščiai neleido – kalėjime verpė rateliu. Verpimas buvo ne tik meditacijos ir minties gilinimo laikas – ratelis įgavo pagreitį ir netrukus tapo išsivadavimo iš ekonominės ir kolonijinės britų priespaudos simboliu.
Gandis ragino žmones patiems verpti, austi ir dėvėti rankomis austą khadį. Ir taip, savo naminiu audiniu, vaduotis nuo priespaudos – pavyzdžiui, nuo priespaudos pirkti britiškas prekes. Gandis suprato, jog nelaisvė gimsta visų pirma galvose: britiška prekė pigesnė, tačiau – žeminanti indišką identitetą, ir tik sugrįžimas prie paprasto, žmonių rankomis gaminamo produkto gali ne tik prikelti iš skurdo, bet ir grąžinti savigarbą.
Kuklusis manifestas
Kad neatsiliktų nuo savo žodžių ir galėtų iš tiesų solidarizuotis su labiausiai pažeidžiamais, nuo 1921 m. Gandis rengėsi itin kukliai: tik baltu dhočiu (dhoti – aplink strėnas sujuosiamas audinys), per pečius persimesdamas paprastą baltą skraistę. Ir Indijos politinėse tribūnose, ir Bekingemo rūmuose, net paskutinę savo gyvenimo akimirką – po 27-erių metų – jis vilkėjo tik dhotį. Paklaustas, ar viešnagės pas britų karalių metu jautėsi vilkįs pakankamai drabužių, Gandis atsakė: "Karalius vilkėjo už mus abu."
Tyrinėtojas S. Balakrishnanas naują Gandžio "įvaizdį" juokais pavadino pirmuoju mados manifestu. Stovėdamas beveik nuogas, nedidelis, trapaus sudėjimo, kuklus, bet tvirtas, Gandis kalbėdavo apie modernios Indijos valstybės kūrimą, visada pabrėždamas meilę, nesmurtinį pasipriešinimą, o nebyliai klausė: ar daug žmogui reikia? Ir ar taip sunku nuo minčių pereiti prie veiksmų? Kuklus rūbas – ir paprastas veiksmas – Gandžio mintį ne sumenkino, o kaip tik įgalino – nuleido ant žemės. Tai buvo įkvėpimas paprastam Indijos gyventojui, o kartu ir nemalonus bakstelėjimas tiems gražiai apsirengusiems, daug šnekantiems apie ateitį ir gerovę.
Šiandien Ahmedabade, paties Gandžio įkurtame "Gujarat Vidyapith" universitete, privaloma dėvėti kuklųjį khadį, taip pat – kasdienė "verpimo pertraukėlė". Verpimo rateliu disciplina šioje įstaigoje yra itin svarbi praktika, nes universiteto siekis – ugdyti širdį, darbštumą ir supratimą apie darbą, o tik tada – galvą. Tačiau ramybė ar įtemptas darbas girdisi skambant rateliui? Šiuolaikinės Indijos tekstilė yra dar toli nuo gandiškojo idealo.
Who Made My Clothes?
Neseniai per socialinius tinklus nuvilnijo akcija #WhoMadeMyClothes (liet. "Kas pagamino mano drabužius?"), raginusi vartotojus fotografuoti prekės ženklus ant savo drabužių ir žymėti atitinkamą prekės ženklą kartu su šiomis grotažymėmis, siekiant atkreipti gamintojų dėmesį, jog vartotojams rūpi, ar šis verslas – etiškas. Žinoma, toks verslo modelis – masinė paklausa ir pigi, masinė pasiūla Vakaruose – vargu ar įmanomas humaniškomis priemonėmis: akcija gimė minint prieš keletą metų Bangladeše įvykusią nelaimę, kada įgriuvus tekstilės fabrikui žuvo šimtai darbuotojų (tarp jų – vaikai), nesaugiomis sąlygomis gaminusių rūbus vakarietiškiems prekės ženklams. Šia akcija taip pat įpareigojami ir vartotojai – priimti sprendimą, kokią kainą norėtų mokėti už drabužius – ir ar nori mokėti už drabužius, pagaminamus tokia kaina.
Bangladešas? Galiu priminti, jog regionas turėjo savų ambicijų, todėl 1947 m. netapo Indijos valstybės dalimi, tačiau tiek kultūriškai, tiek geopolitiškai yra labai artimas šiaurės rytų Indijai. Problema, susijusi su Bangladešu, Indijoje – ne ką mažesnė: pasivaikščioję lietuviškame prekybos centre rasite ne vieną etiketę "pagaminta Bangladeše" (Indijoje, Maroke, Turkijoje…). Vyraujant žemam pragyvenimo lygiui (t. y. visuomenei išgalint pirkti tik nebrangius produktus), didelei tekstilės paklausai tarp pačių Indijos piliečių, išvystytai vartotojiškai turizmo industrijai (na, kas gi nesusigundys pigia šilkine skara), produktus atsirinkti sudėtinga, tad etiškas verslas Indijoje vis dar yra ant išlikimo ribos.
Gandis greičiausiai negalėjo taip toliaregiškai numatyti industrializuotos Indijos likimo, tačiau savo laiku stebėdamas vykstančius procesus, numatė gana realias grėsmes – ir bandė kelti kitokius idealus.
Kuklumas, tausojimas, bendruomeniškumas, vietinių, save aprūpinančių (angl. self-sufficient) bendruomenių kūrimas, pirmenybė vietinei produkcijai, tvarus ūkininkavimas… Skamba kaip nūdienos realijas atliepianti ideologija, tačiau iš esmės išvardijau gandiškosios ekonomikos sudedamąsias. Gandis pabrėždavo, jog sveikiausiai ir laimingiausiai žmonės gyventų, jeigu kiekvienas pasigamintų ir suvartotų pagal savo poreikius.
Pamąstymui
Dažnai svarstau, kodėl šiandieninio pasaulio ekonominės ir švietimo galimybės vis dar neįgalino kiekvieno žmogaus gyventi oriai: suprantu tik tiek, kad industrializacija išlaisvino ekonomiką, tačiau neišlaisvino žmogaus iš jo paties pragaro ratų – iš nekuklių norų, iš menkinančio žvilgsnio į "juodą" darbą. O kas turi išlaisvinti?
Gandis akcentavo ne ekonomiką: meilė, tiesa ir į jas vedanti nesmurtinė stovėsena, kantrybė, atjauta turėtų būti pagrindiniai žmogaus – ir valstybės! – idealai. Suprantu, kad pati išgyvenu ne mažesnę vergystę nei Gandžio amžininkai, nes įsivaizduoju esanti "priversta" rinktis prekę iš trečiosios šalies. Gandis šioje vietoje mina ant sąžinės: iš tiesų tai – tik mano poreikiai. Tokie nekuklūs, kad net nestabteliu pagalvoti: galbūt mano pasirinkimai įkalina kitą žmogų? O gal menkina rankų darbo vertę?
Bet žiūrint į skaidrų Mahatmos gyvenimo atvaizdą pradeda atrodyti, kad įmanoma rinktis kitaip. Reikia tik sakyti tiesą, turėti noro ir išmonės. Gal medvilnės aktyvizmas, gal – vilnos. Galima pamedituoti sukant špūliukę vilnos.
---
1 Mohandas: Gandžio pilnas vardas – Mohandas Karamčandas Gandis, tačiau dėl didžių darbų jam įgavus pagarbą, dauguma į jį kreipėsi Mahatmos epitetu (iš sanskrito mahātmā – didi siela).
---
Pirmąkart straipsnis publikuotas 2018 m. "Verpėjų" leidinyje.
Žalios bendruomenės tinklaraštis atviras visiems, tad jeigu ir Tu nori pasidalinti žaliu turiniu – parašyk mums laiškelį ir padėk sukurti tvarios informacijos lobyną!